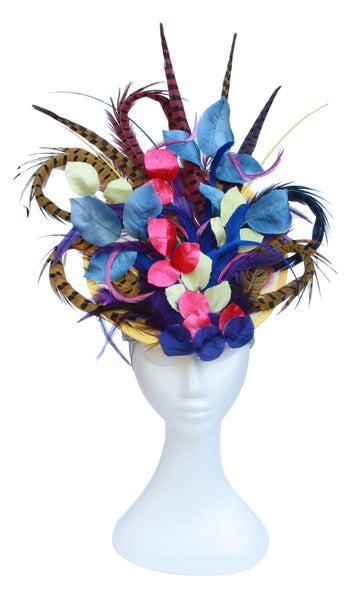 Hats by Felicity - Carnivale Twist
This creation honours life and its journey of twists and turns, and how we often end up in a completely different place to where we would have thought; but when we get there it makes sense and is exactly where we should be. How sometimes we have a incident that takes us a completely different direction and to a new opportunity. After my melanoma surgery I was physically unable to do some things that were a natural part of life like driving, brushing my teeth and opening my wine. I decided to plan an overseas holiday to direct my mind to brighter things and ended up booking a trip to New York City. It was on this trip that serendipitously I ended up at New York Fashion Week as a guest, which then led to my invitation to showcase on the runway as a designer for the following three years. Life needs to be embraced and whilst sometimes we don't understand 'why' it's often about being positive, seeing the glass half full, accepting that the twists and turns will eventually lead us to where we should be. We need to live and love the carnivale that is life.
Showcased on the runway of NYFW Spring Summer 2017 "Australia in Bloom"